Post December, 2017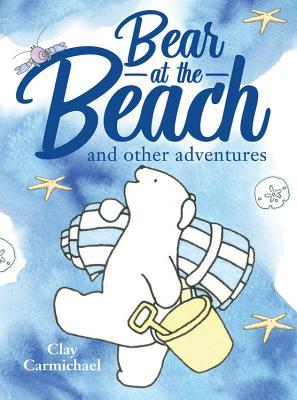 I signed a contract this year with Quarto, a publisher in California, to bring the three Bear books together in one volume and back into print. I spent three months rescanning, digitizing and color correcting the original art, and I now have copies of the bind-up for all those who've waited so patiently since the three books have gone out of print. Bear is back!
.....
Post November 9, 2016
I turn to this essay for light, hope and solace whenever I feel my country has taken a seriously wrong turn, as it has many times in some of the darkest, and, as now, authoritarian moments in our history. It was written by one of our greatest artists in 1988, long before 911 and our subsequent rush to senseless war based upon the lie of weapons of mass destruction. I posted it in my studio then, and post it here now because it seems so current, but mostly to console myself, uplift me, and to make me remember what I love best about my country and give me hope for the future. I pray my country remembers its better self soon.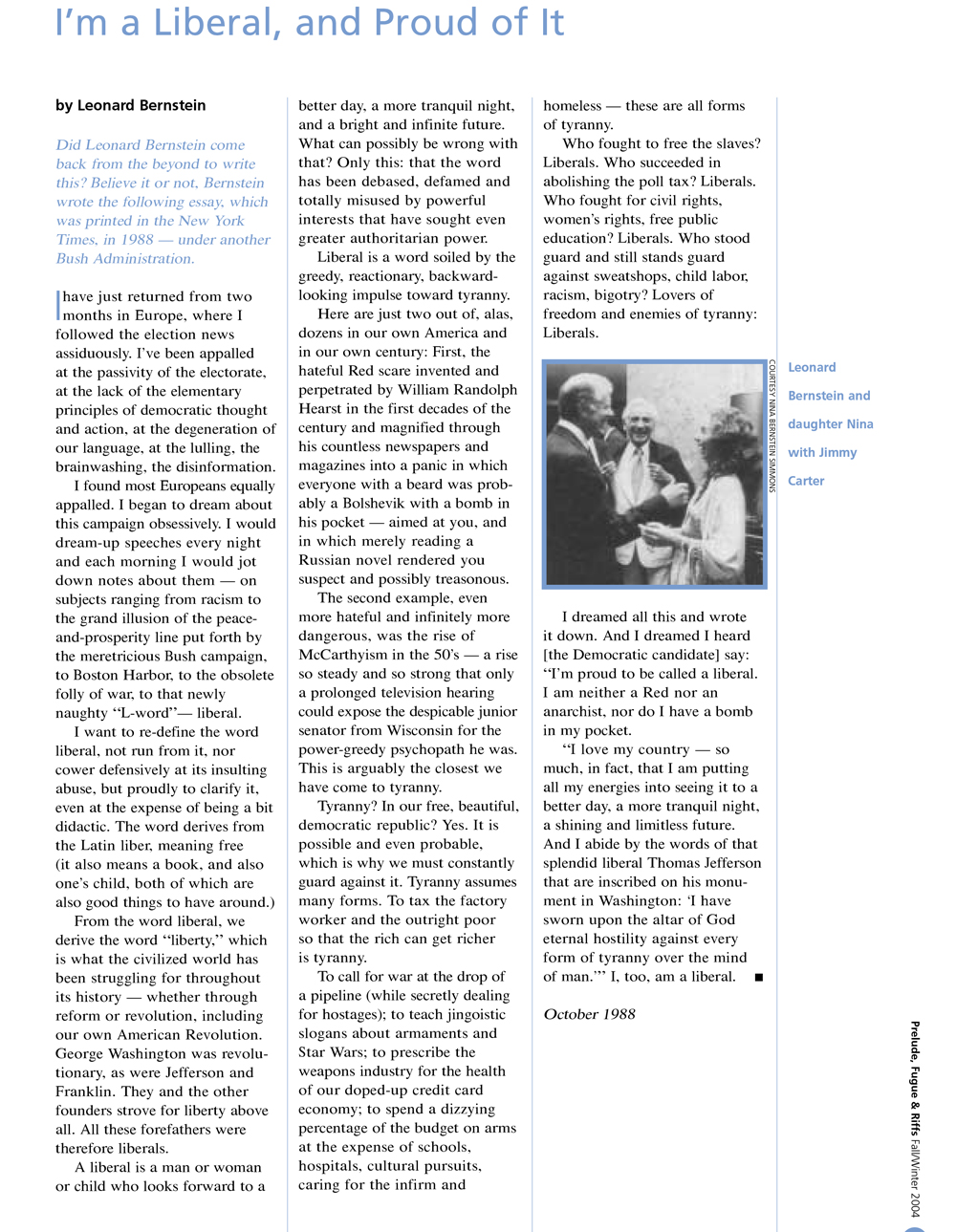 Posted for Education purposes. Link here, page 3: http://www.leonardbernstein.com/pfr/pfr_FALL04RE2.pdf
.....
Letter from Germany on the eve of the 2016 Election
We had open studios over the weekend, very successful on two beautiful days. So lovely to see and visit with all the young and older fans of our work, to have lots of our art go out into the world. And still. And yet. There was a pervasive sense of anxiety in those who came, a worry mostly unspoken now, or only briefly alluded to, as everyone's so weary of talking about what seems to thoughtful people so obvious. This letter came just before we opened our doors from my German translator, become dear friend, Birgitt Kollmann. Reading it, it's hard not to think the obvious: Germans in particular know too well what is at stake here; what hardheartedness, despite tomorrow's election outcomes, is churning here, now. As I texted Birgitt: I write and paint and work to keep the faith.
Dearest Clay, dear Mike,
Tonight I was lying awake for hours, basically owing to a bad flu, but more and more it was the thoughts circling in my head that kept me awake. Denk ich an Deutschland in der Nacht, dann bin ich um den Schlaf gebracht, our 19th century poet Heinrich Heine once wrote. (Thinking of Germany at night /Just puts all thought of sleep to flight.)
But though far from all is perfect in Germany, right now it's more the U.S. that keeps us worried and fills us with alarm and foreboding. I do wonder whether a large number of Americans are aware of how people all over the world, and probably most of all in Europe, are focussing on the U.S. elections these days, and have actually been doing so for weeks and months.
And it's not just some game we are watching from the tribunes, some championship. It just feels terrible to know that not only the future and fate of your country is at stake but also the whole world's. Very many people, not just me and our family and friends, also people with otherwise greatly diverging political views dread the thought of waking up next Wednesday morning to a world in which that grandson of a German émigré barber whom Germany unfortunately didn't allow back in at the time, has been made the most powerful man around.
It is not that over here we're all great fans of Hillary Clinton's; it would have been good to have a younger generation shouldering responsibility for the future, but if in a nation of over 300 million no one else can be found but these two candidates, then Mrs. Clinton certainly is the more reliable, balanced, and trustworthy candidate.
I do know, dear Clay and Mike, that I don't have to convince you. I just felt like putting this down on paper, and perhaps you can let Open Studios visitors know how very much dependent we are on their vote.
I'm glad you're busy these days, otherwise you'd probably turn crazy with worries. Have a lovely, successful weekend, in spite of all.
Love,
Birgitt
.....
Post April 13, 2016:
North Carolina Children's Book Authors and Bookstores for Repeal of HB2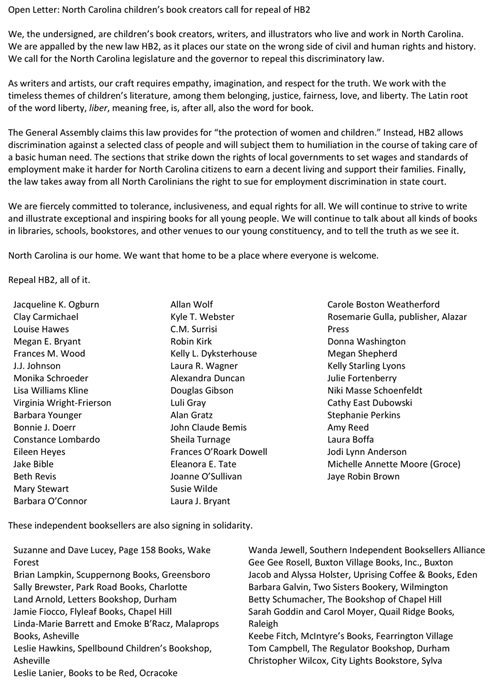 Download a pdf of this letter

Mentioned in April 14, 2016 New York Times Op Ed

Featured in April 14, 2016 Shelf Awareness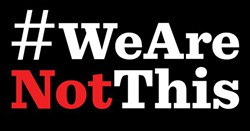 .....
Post March 16 2015:
Wild Things is named to the 2015-2016 NCSLMA Battle of the Books list! http://www.ncslma.org/msbob
Pleased and honored to be in such company.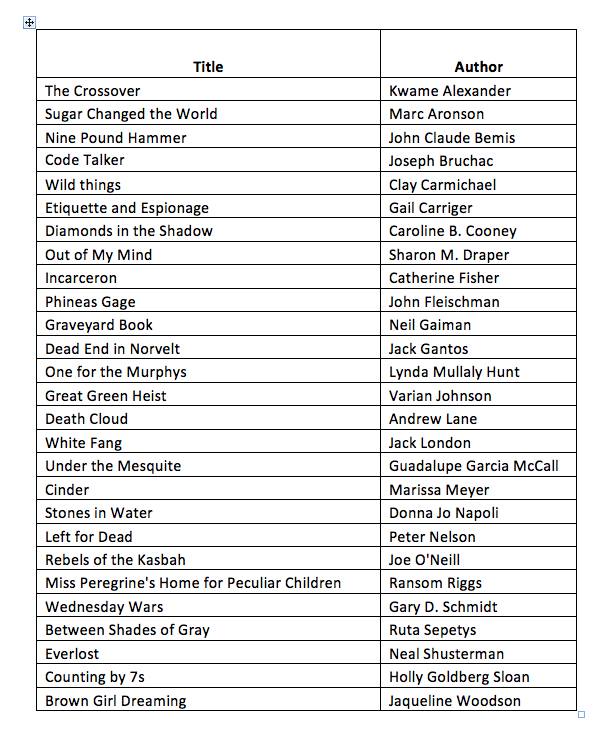 .....
Post October 6 2014: The Rhino Magazine Das Nashorn arrives fr0m Germany ! (For a history and my own rhino poem, see the previous post below.)
Boy, do I have a lot of Google translating to do. But what delightful pictures and poems so far and what company I'm in these pages, wow and zounds!
Just a few of my fascinating offbeat, wildly talented and far-flung fellow rhino poets and translators: Macedonian poet Lidija Dimkovska, Cameroonian writer Patrice Nganang, Hans Christian Anderson Award recipient Jutta Bauer, Julia Donaldson, 2011-2013 British Children's Laureate and MBE; Lebanese writer Jabbour Douaihy, German Jazz Master Eberhard Weber, Algerian author Yasmina Khadra, and three particular favorites: Slovene writer Boris Pahor "internationally most notable for his Holocaust experience described in the novel Necropolis" and who, as notably if you ask me, is 101 years old; Harry Rowohlt, "German writer and translator who also plays the role of a derelict in the famous German weekly soap Lindenstrasse"; and Marianne Koch, retired German actress "best known for her appearances in spaghetti westerns," most famously mit Clint Eastwood in Fur eine Handvoll Dollar.
Smaller world, how delighted I was to find Miriam Pressler whose excellent YA Let Sleeping Dogs Lie was published by my Wild Things publisher, Front Street.
While I brush up on my languages, I leave you with the rhino stylings of National Book Award winning and Ruth Lilly Prize Poet Gerald Stern:
I love rhinos
because they're not winos;
most drunks
are skunks.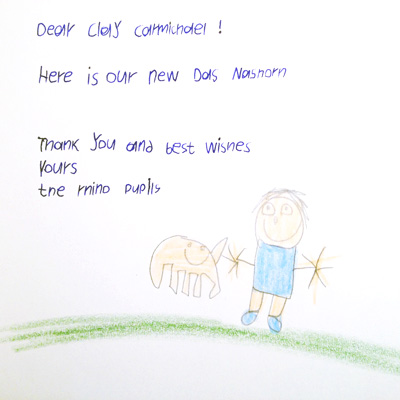 Post February 10 2014: The Rhino Pupils or Another Chapter in the Exotic Life of the Author
Ten days ago, the marvelous but mysterious letter below arrived from Germany via Macmillan, one of my publishers. Would I write a four-line stanza about a rhino for the rhino-pupils in Breman, Germany?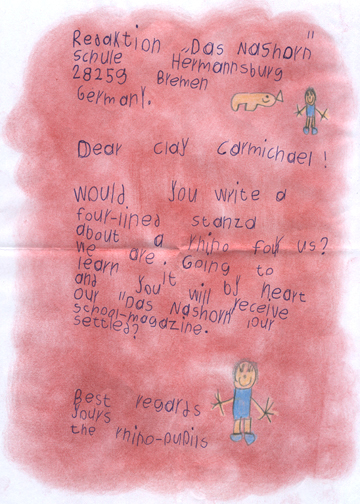 Also enclosed were two photocopies of rhino-stanzas written in much earlier years by authors Paula Fox and Doris Lessing, presumably so I would understand that the writing of rhino poems was a distinguished tradition.
"We are going to learn it by heart," they wrote of my as yet unwritten stanza, "and you will receive our Das Nashorn, our school magazine. Settled?"
And that was all.
Naturally, I scanned and emailed the letter to my German translator and good friend Birgitt Kollmann. Did she know anything about this rhino-poem tradition? Indeed she did, and soon replied:
"...the background was this: At this school in Bremen, in northern Germany, disabled children were integrated successfully with non-disabled children. Their class was called "Nashornklasse". (Rhino Class) When the Senate (= gov't) of Bremen planned to change this and separate the children, a large protest movement started. One of the steps taken to interest the media and the general public was asking practically all well-known German-language authors for a poem. These were later collected in a book. And their protest was successful, the children stayed together."
Apparently this tradition continued and stanzas were and continue to be solicited from authors outside Germany. Lucky me.
I had the gist of my verse in my head within an hour and set to work to illustrate it, the time-consuming part, designing it as a four-panel fold-out card. I'd never drawn and painted a rhino before. What fun! This morning I mailed the Bremen rhino-pupils my illustrated rhino stanza: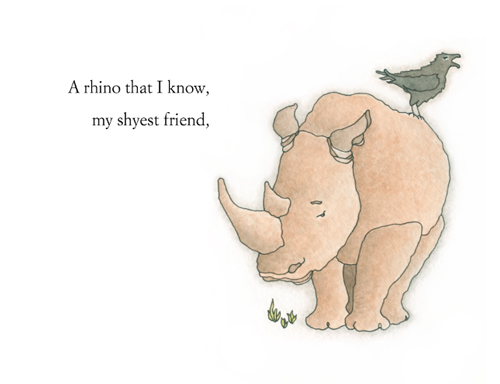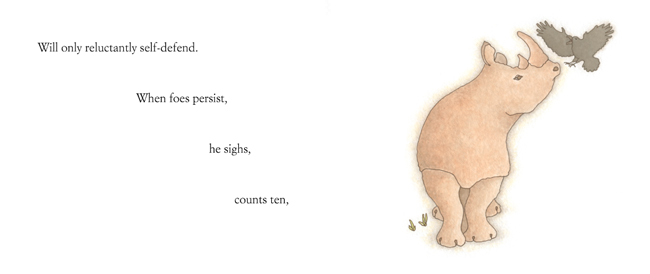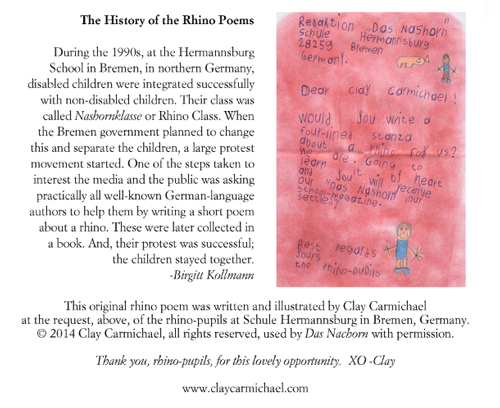 Post December 6, 2013: Let's Chat on Twitter!
12/6/13: #Litchat on Twitter with @ClayCarmichael, author of BROTHER, BROTHER on Fri 12/6 4-5 pm/EST! Preview here: http://litchat.com/2013/12/05/guest-host-clay-carmichael/
.....
Post: Banned Book Week 2013, September 22-28:
This year, I'm honored that one of my illustrations has been selected to be a Banned Book Week Trading Card at Chapel Hill Public, my hometown library, and that the image was recently chosen Best 2013 Banned Book Week Trading Card in a national vote. My thanks to CHPL, @my library, and to the American Library Association.
I've also made the image into signed, limited edition archival 13 x 19 posters, all proceeds to benefit the library. Below, preview my illustration inspired by E.B. White's Charlotte's Web--13th on the American Library Association's list of frequently banned and challenged classics--along with my artist's statement. Posters are for sale at the library and I'll also have them available during Open Studio Tour in November.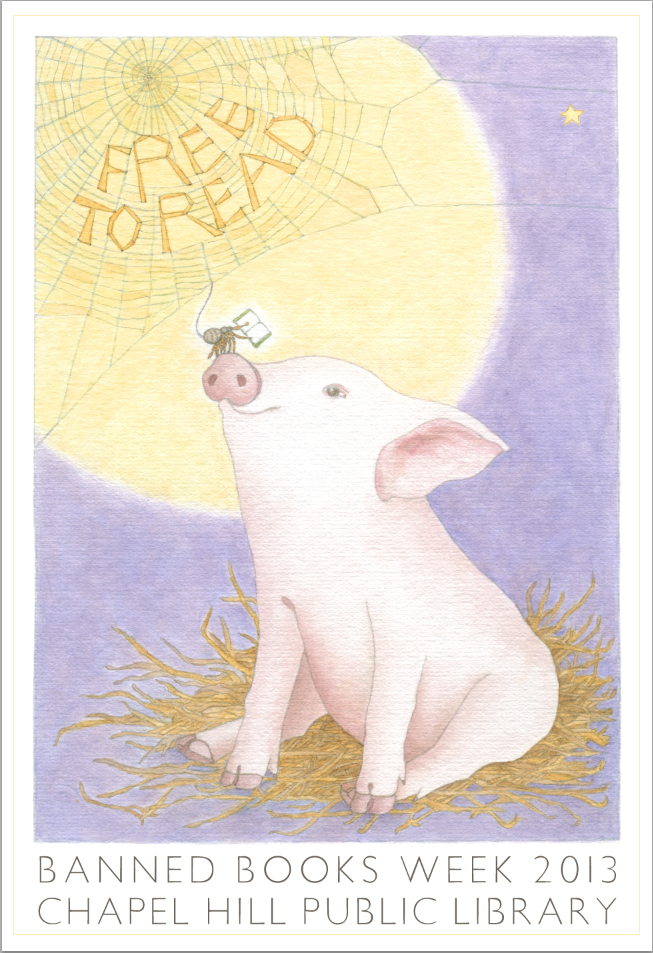 Clay Carmichael / Artist's Statement / Banned Book Week 2013
If you can ban Charlotte's Web, you can ban anything.
E. B. White's Newbery-Honor-Award-winning Charlotte's Web was first published in 1952, so it surprised me that the book ranks thirteenth on the American Library Associations' list of Frequently Challenged Classics and that the challenges to the book occurred in the last ten years.
This moving story about the friendship between Wilbur the piglet and Charlotte, a barn spider, was challenged in England in 2003 by a headteacher who was "aware of an occasion where young Muslim children in a class were read stories about pigs. This could have caused offence to religious sensitivities." The Three Little Pigs and Winnie-the-Pooh were challenged, too, and removed from classes on the same grounds. The Muslim Council of Britain intervened, saying, "there are parents and families who believe that portraying the pig in books is wrong. But there is absolutely no scriptural authority for this view," and asked that the titles be returned to the shelves.
More recently, in 2006, parents in a Kansas school district challenged Charlotte's Web, arguing that talking animals were blasphemous. "[H]umans are the highest level of God's creation and are the only creatures that can communicate vocally. Showing lower life forms with human abilities is sacrilegious and disrespectful to God." They argued, too, that Charlotte's natural death at the end of the story was "inappropriate subject matter for a children's book."
I've shown Charlotte reading to Wilbur, as friends do, after writing something appropriate to a book where both writing and reading save her good friend's life. Truly, she was a spider ahead of her time writing on the web. As the author tells us as the end of the story: "It is not often that someone comes along who is a true friend and a good writer. Charlotte was both."
Trivia question: What book beat Charlotte's Web for the Newbery Medal?
Answer: click here.
.....
Allied-Post, August 17, 2013
A few weeks ago blogger Marshal Zeringue asked me to pretend-cast my new YA Brother, Brother as a film. LOTS of you helped and what fun it was! Well, now the results are in. May I have the envelope, please?
See the full post on one or both of Marshal's wonderful sites: Campaign for the American Reader or My Book, The Movie. Also check out his four-footed blog Coffee with a Canine. Arf!/Enjoy!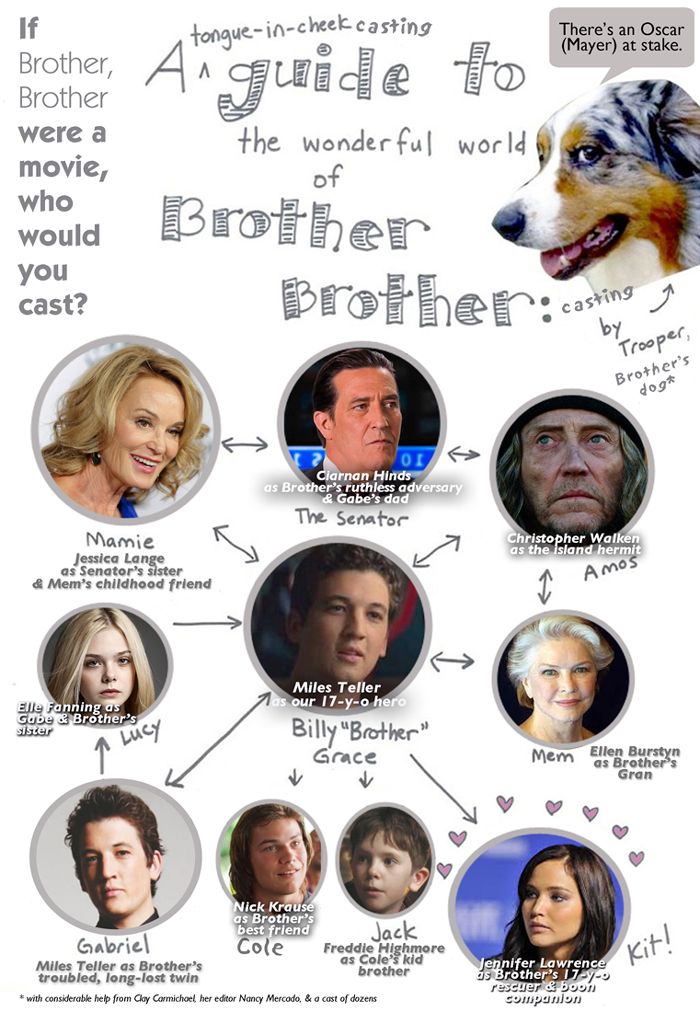 .....
Post: July 30, 2013
BROTHER, BROTHER debut week burning question! Who would I cast in the movie of my book?
Blogger Marshal Zeringue of "My Book: The Movie" wants to know. Please send me your brilliant castings, oh readers, and to make this easier for you I've linked a fun nomination for download below.
Hat tip, my wonderful editor, Nancy Elizabeth. Share all you want.
Email casting suggestions here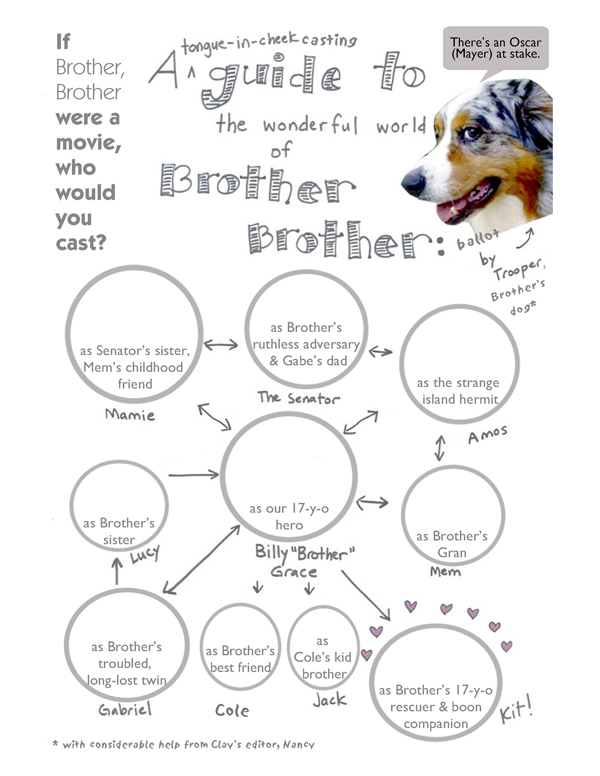 .....
Post: July 3, 2013
John Bemis, NC Piedmont Laureate, interviewed me this week for his Laureate blog. Thanks, John!
JB: What made you decide to be a children's book writer?
Clay: I didn't set out to write and illustrate for children.
I did want to be a writer and loved art from an early age. As kids, my sister and I made regular visits to the Ackland Art Museum, though at first, I admit, we were more drawn to the dead guy in the tomb than the art....Read the rest here:
http://piedmontlaureate.com/2013laureateblog.php
.....
Post: March 6, 2013: A Short Meditation on Place/ 2013 AWP Conference Remarks
Winter storm Saturn (what's with these names?) will keep me from driving north to Boston for the AWP conference this week. I wish my fellow presenters Zu Vincent, Debby Edwardson, and Kelly Bennett well and post my own brief pre-panel comments here:
"Write what you know," Howard Nemerov said. "That should leave you with a lot of free time."
Said James Baldwin, "When you're writing you're trying to find out something which you don't know."
And this longer quote from Jim Harrison: "What I hate about this notion of regionalism in literature is that there's no such thing as regional literature. There might be literature with a pronounced regional flavor, but it's either literature on aesthetic grounds or it's not literature. In the view of those on the Eastern Seaboard, everything that is not amorphous, anything that has any peculiarities of geography, is considered regional fiction, whereas if it's from New York, it's evidently supposed to be mainstream. [Y]ears ago … it struck me that the Upper East Side of New York was constitutionally the most provincial place I'd ever been."
That I agree with all three of these writers should tell you that I'm more a write-what-you-don't-know kind of writer and a universalist whose neighborhood happens to be North Carolina. Truth to tell, the term world-builder is a bit academic and high-sounding for me. As a realistic writer, the components of my fictional worlds are already out there fully formed. So what might be more accurate in my case is to say that I'm a writer-illustrator who uses my eyes and ears and all the craft I can muster to render my made-up characters and fictional worlds as best and truly as I can.
Both my novel Wild Things and my upcoming novel Brother, Brother are carefully and intentionally set on North Carolina ground, a rich, diverse, much blood-watered and manure-augmented earth. I've lived there most of my life, a kind of immersion. And so the steeped tea of North Carolina landscapes, people, diversity, tongues, politics, and weathers permeates my stories.
…
Post: February 22, 2013: My Most Amazing Author Letter Ever / Why Author Visits Matter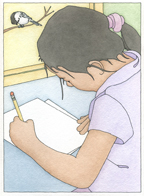 "The writing life has incomparable advantages: flexible hours, mental challenge, the wardrobe—you can go to work in bunny slippers if you want to…And in time, if you're truly blessed, you'll begin to get mail. You'll…tear it open, and find out everything you've ever done right in this world, and wrong. The mail will bring you more applause and brickbats and requests and advice and small, perfect bouquets than you can ever answer or even acknowledge. Its presence will cheer you on gloomy days, and guide you through the straits of your own conscience. It will stand as proof that you're blessed."
-- Barbara Kingsolver, High Tide in Tucson
Those who've heard me talk about my thoughtful, moving, wildly funny, often illustrated, glittered or candy-stuffed reader-mail know I get what BK means. Once in a great while, though, a real stunner arrives. The following amazing, miraculous, benediction of a letter came in yesterday's early morning mail while I was still in my bunny slippers. I asked the writer if I might share it with my readers and colleagues.
Thank you, Heather.
Ms. Carmichael,
I know you probably don't remember visiting a third grade class thirteen years ago, and you definitely don't remember me. However, I do remember you. I was either eight or nine at the time, a student of Mrs. Beckworth at Vena Wilburn Elementary. You came to visit us, telling us about your bear books. I'll admit that I can't really remember anything specific that you said about your writing and illustrating, but I do remember marveling over the pictures; I do remember going back to my classroom with the profound realization that someone actually made the books that I liked so much.
I knew that I wanted to try and do the same thing, an affair that I actually set up that same day. I talked to a little boy in my class named Quinn, and the two of us decided that we would make a book, just like you - I would write the words, and he would illustrate. In reality, he only drew two of the pictures before growing bored with it, but I was determined. I wrote the whole thing and drew the rest of the pictures myself. Of course, not having yet grasped the concept of fiction versus non-fiction, the book was really more of a pamphlet with facts and scientific diagrams about flowers and pollination (the topic which we were at the time studying in science). Still, I bound the book together by tying some yarn through the holes in the notebook paper and proudly presented it to my teacher when I was finished. That was the first thing that I ever wrote.
It was the second thing I composed that again brought me into contact with you. Encouraged by the perceived success of my first venture, during the next break from school I set myself to the task of typing my first real story. I wrote about a girl who wanted nothing more than to be a mermaid, so much so that she would wish upon a star and wake the next morning to find that it had come true. It was a rather typical story, the details of which evade my memory - something with a handsome prince, getting shot by an arrow, a kiss, and of course a happy ending. All of this was accompanied by illustrations that I painstakingly drew in Paint on my grandmother's computer and pasted into the Word document. I think it amounted to all of three pages, but this was quite a tome for a third grader. My child's mind teemed with exhilaration over the completed work, and I eagerly had my parents help me with emailing it to you, using the email that you had given us during your presentation in case we wanted to contact you.
What happened next surprises me even now just as much as it did back then: I received a response. I suppose I will never know if it was you or one of your aides, but, in all honesty, that doesn't really matter. You read my story. I remember that you not only gave me praise, but you actually told me what I could do to get better, a sort of encouragement in a realm beyond praise. In fact, I remember exactly what you told me to do; you told me to slow down and to put more description into it. I devotedly rewrote the story - several times, actually - and composed many more of many varying lengths as I grew older.
My name is Heather G., and I'm 22 now. In May, I'm going to graduate from my university summa cum laude with a Bachelor of Arts in English, and I intend to eventually get my Master's. I want to be a librarian. I've already been working in a library for almost four years where I get to interact with the most amazing people, exist at the forefront of every new publication, and share my passion with everyone else around me. I'm also working on writing a trilogy of my own that I want to have published one day. I know that all of this has little bearing on you, but I felt like I should share it with you in order for you to fully understand the weight behind the following sentiment.
Today I was talking to my best friend about a local writer that is going to visit her daughter's school. It was during this discussion that I realized how much of my present I owe to your visit and your response email. That really inspired me and planted the seeds for the fruits that I now reap. If it were not for you, I do not know what I would be doing now. Though I already enjoyed reading, I doubt that I would have developed the passion for books and writing that I now have if you would not have come to talk to us. I wouldn't even have my best friend, as we met on a website for aspiring writers nine years ago. At the end of the day, I just wanted to let you know that you have made a difference in at least one person's life. More importantly, though, I wanted to say thank you.
Sincerely,
Heather G.
Post: February 2013/A Foot in Two Worlds/Guest-poster on the Through the Tollbooth blog
I have a new young adult novel, Brother, Brother (Roaring Brook) coming out this August and I've been working on final things with that manuscript, but also writing talks, visiting and Skyping with students—American and German—about my 2009 novel, Wild Things (Front Street/Boyds Mills Press), which is happily on three state award lists this year.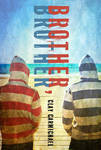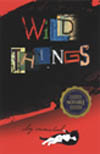 Both take place in North Carolina, but one is for younger readers and the other for teens; one has a cat, the other dogs; one an eleven-year-old girl, one twin teen boys. In Wild Things, the girl spitfire goes to live on the red clay of the North Carolina piedmont with her sculptor-uncle, while my other more passive main character in Brother, Brother seeks out his twin on the private island of a powerful, conservative U.S. senator.
Going from one book's world to the other is a bit whiplash inducing some days, not so much due to the different characters and places, but more because the emotional landscapes and character's challenges so differ. It's a bit of a psychic balancing act and requires a good emotional memory....Click here to read more on the Through the Tollbooth blog.
Post: November 2012
I've delivered my new young adult novel into the newly maternal hands of my editor Nancy Mercado and her assistant Angie Chen at Roaring Brook Press. Studio Tour and teaching are done for another year. Which means there's been a little time to check the back burner, view the beach footage husband Mike was kind enough to shoot during a birthday shore getaway, and carve out a one-minute book trailer for the book due out in August. See it here.
Post: November 15/Thanksgiving 2011
In April I received the request below, and with the help of Rhonda Purtee in the Boyds Mills Press order department and Harriet Linskey @ Hands Across the Sea (http://www.handsacrossthesea.net/), ten copies of 'Wild Things' headed to a book club in The West Indies. The photo below arrived with handmade thank you notes ("Thank you, because we really need them a lot") in yesterday's mail. Happy Dance.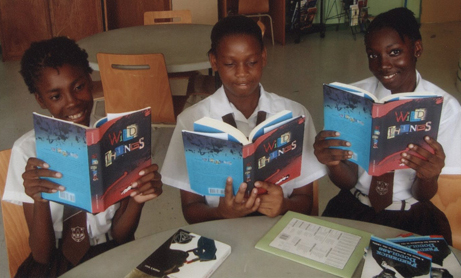 My name is Liz Deppe, I am a Peace Corps volunteer serving in St. Vincent and the Grenadines at the Barrouallie Secondary School. I am working with the students in the areas of literacy and art.

My most recent project has been creating a book club at the school. The problem with this is we are struggling to find a book to focus on that interests the children. There are not bookstores in Barrouallie, and the ones that can be found in Kingstown, the capitol of St. Vincent, are very expensive and have small selections.

I have been researching what book I think might interest the students the most. I have run across your book 'Wild Things' and was overwhelmed by what a positive response it has received. My good friend, a children's librarian, said she could not put it down from the moment she picked it up.

I believe the plot of the story told in 'Wild Things' would be of particular interest to my students. Many come from broken families and are not very trusting of adults. I am looking for a book in which they can escape and enjoy reading. I believe 'Wild Things' is the perfect book for this purpose.

My problem, and the reason I am getting in touch with you, is securing the books for the book club. Schools in St. Vincent have very low funding. Students are responsible for buying their own text books for school. Many students cannot afford text books, so they come to school empty handed. This leaves the teachers frustrated, but has allowed them to come up with non-traditional ways of teaching. I am writing you to inquire if you might consider donating a set of 'Wild Things' books to our school so we may enjoy them in our book club...

...Thank you for considering my request and creating a story that can truly spread the joy of reading.

Liz Deppe
elizabethdeppe@gmail.com
…
Post: August 2011

Zoë, the German edition of my novel Wild Things, debuts this week and the early reception has been overwhelmingly generous, loving and kind.

One reviewer compares Zoë to Heidi and Pippi Longstocking, characters I loved as a child. The entire experience with the German publisher, Carl Hanser Verlag, has been wonderful, but if German readers fall in love with Zoë and Herr Kommkomm (as Zoë's cat, Mr. C'mere, is known in German), it will be largely due to the prodigious gifts, poetic sensibility and great good heart of translator Birgitt Kollmann.
Birgitt's first email to me came in summer 2010, out of the blue:

July 23, 2010
Dear Clay,
I thought I'd let you know that I've just started translating your wonderful book Wild Things into German and I'm very happy about it.
If you like, we could keep in touch. My experience with other writers is that it is very helpful to talk about things in the process.
Among the authors I have translated are Alison McGhee, Sarah Weeks, Susan Fletcher, Donna Jo Napoli, Joyce Carol Oates (her YA novels), Martine Leavitt, Laurie Halse Anderson, and I'm very happy to include you in my list.
Looking forward to hearing from you,
Birgitt
Birgitt Kollmann
My other books had been translated into various languages: Japanese, Chinese, Dutch, Spanish and one, Used-Up Bear into German, but no translator had ever contacted me, much less written to ask my help. I assumed translators, like most illustrators, were given manuscripts and worked without consulting the writer in order to develop their own vision of the work; in particular, to work out the music of the book in their own language and in the context of their own culture.
Too, as someone who both writes and illustrates and who therefore has a strong vision for her work, I didn't want to get in my translator's way.
I replied the same day:
click here to continue reading
…
A few books I'm reading:
…
January, 2010
"I know the perfect child to give it to and now I cannot wait until Monday when I see her."
~In with the new! or On one occasion of being reminded why I do what I do~
Ten years ago about this time I was in New Jersey helping out my sister, whose business had just been featured on Oprah.
There were just seven of us to handle the tidal wave of orders that followed. I handled the phones, or rather phone. The other elves were busy baking, making nosegays, packing the daily shipments—all high-end, perishable items. I talked on the phone and tracked packages, eighteen hours a day, give or take, for several stressful weeks. Don't get me wrong. The Oprah endorsement was a great thing, but the only way I can describe the onslaught after it is to say that the voice mail filled up every 30 minutes and I spent most of my time returning calls to tell disappointed, upset, or angry customers that our inventory was exhausted and new merchandise available only well after Christmas. The high-class campers were not happy. My low point came when I politely told one desperate, furious man that I was so sorry, but I didn't have even one pound cake left to sell him. Before slamming down his receiver, he told me he felt "betrayed."
To counter such furies, I swam every morning at 5 a.m. at the local Y. You meet a hardworking, dedicated, salt-of-the-earth class of people in Ys at that hour, and that's where I met Loreli, a teacher in the local schools. We hit it off. I told her I was a children's author and illustrator and, as we dressed for work, we talked about daily life in the familiar way women do in locker rooms, and also about the many things we, who worked with and for children, had in common. I either gave her or sent her copies of my books for her classroom. I went back to North Carolina to start a new marriage and a new book, and Loreli and I lost touch.
Fast forward ten years to this past Christmas Eve. On my way out the door to spend the holidays in Virginia, I got an email from Loreli. She's now a librarian, has been reading the Newbery buzz on my book, Wild Things and tells her aide: "I think I know her." She goes on, "I hate to admit it but sometimes I breeze by the reviews of YA books because my school only goes to 5th grade."
I wrote her back during a few moments of solitude on Christmas Day. I was flattered she remembered me and glad to hear from her. I told her to please keep in touch and added that I thought some of her upper elementary kids might really enjoy Wild Things. Loreli wrote back to say she'd ordered a copy and looked forward to reading it.
Yesterday I caught up on end-of-year business: emails, reviews, blogs, nominations and such concerning Wild Things. Among the mostly rave notices and few fair ones, I came across one really mean-spirited summer review, one I hadn't seen, by a librarian—now a former librarian, I'm happy to say. Many of my favorite people are librarians, and I can't imagine someone so unconstructively critical and harsh working with children. Oddly, her mean-spirited notice was one of two reviews which appeared in the same publication—the other was a rave review—but, of course, like the furious, "betrayed" customer of my sister's I still remember after all these years, it was the hateful review I couldn't get out of my head.
Until today, on this eve of the new year—out with the old and in with the new—when the daily email brought this note from Loreli:
Dear Clay,

Your book arrived yesterday. I read until 11:30PM when my eyes just would not stay open a second longer. After a trip to walk my parent's dog in the snowstorm we had this morning I returned to reading it. I was engulfed by it. I loved all the characters but especially Zoe! I am still thinking how I must reread it because surely I missed some of the beauty of the whole story. I know the perfect child to give it to and now I cannot wait until Monday when I see her. It is such a wonderful thoughtful book. I cannot really describe how I feel right now.

Happy 2010.
Loreli
Happy New Year to all, but especially to you, Loreli.
…
Thanksgiving 2009
Much to be grateful for this holiday—my favorite—& so I begin this occasional. A few things:
Wild Things, my book about a resilient orphan, became an orphan itself last September, suffered Dickensian vicissitudes, but survived to thrive—though all the talented people who worked closely on the book remain laid off—publishers take note! My gratitude is vast for the good people who made Wild Things possible, the many rave reviews, beaucoup nominations, shortlists & the NC Juvenile Literature Award.
Among this year's many high points was the invitation to speak at the North Carolina Literary Festival and I reprint my NCLF talk below to acknowledge, thank & celebrate the book's many muses.
Thank you, thank you, all. -Clay