PROUD SIGNATORY OF THE DECLARATION IN SUPPORT OF CHILDREN ON THE BROWN BOOKSHELF
NC Children's Book Authors and Bookstores for Repeal of HB2
* * * * * *
Honors & Reviews for Brother, Brother / Roaring Brook Press
A Bank Street College Best Children's Book of the Year
Wilde Award for Young Adults Novel Novice's Best YA Books
Examiner.com: Best YA of 2013 & 64 YA Books to Give for the Holidays
Nominee, Teen Choice Book of the Year
Watch the book trailer /Publisher's page / Download the discussion guide
Feature in Shelf Awareness / First Chapter / Contact Clay Carmichael
Carmichael explores the journey to self-discovery, nature versus nurture, defining family values, and recognizing your own strength and character through the appealing Brother and his marvelous entourage. -VOYA
Carmichael instantly reels in the reader with her grippingly real characters and by adding tinges of mystery, heartbreak, and humor. This story grabbed me on the very first page. Teens will be drawn to the theme of clinging to one's identity in a pushy, confusing world. Recommended. –Library Media Connection
"When seventeen-year-old Brother Grace loses the wise, warm, lively grandmother who reared him, he doesn't know where to turn. Mem, his grandmother, had always been tight-lipped about his background, stressing only that going to visit the island where she grew up as the daughter of the housekeeper of a wealthy family was out of the question. Now that she's gone, however, Brother makes an unsettling discovery about what the island holds, and he makes the trek to the island to uncover the secrets of his family. Carmichael deftly creates an atmospheric setting; the property, ironically but aptly called Eden, is a paradise infected by sadness and corruption and haunted by tragedy. There Brother finds relatives he never knew: his great uncle (a powerful senator who brooks no challenge to his control over his family) and Brother's own drug-addicted twin brother. Brother arrives with his own posse, including a childhood friend and his little brother with problems of their own, a strong-willed, intelligent girl he meets on the way, and his dog, Trooper, who is simply everything a dog should be—faithful, heroic, and more than a little psychic....[A] family story with its touch of mystery, well-developed sense of place, and appealing characters."— BCCB
"This uplifting underdog story, featuring actual dogs, will draw thoughtful readers with its well-wrought characters and themes of family secrets, romance, and virtue."—Suzanne Gordon, SLJ
"[A] gentle, character-driven work that rides on the compassionate nature of
the protagonist, set in a richly described landscape of sand and sea. Carmichael makes a powerful case for the influence of a loving family, be it blood relatives or family of choice. She has an ear for teen dialogue and captures the teasing energy of flirtation as well as the jocular, determinedly unsentimental exchanges of young men. With a road trip, family secrets, and romance, there's a pleasing fullness and symmetry that should draw readers." —Debbie Carton, Booklist
"With a strong sense of mystery, an unusual setting and engaging teen characters-both male and female-Brother, Brother is a perfect page-turner for summer reading, whether readers are on the beach or just dreaming of one."

"Mysteries and Brother's discoveries keep the tension powerfully present...balanced with imperfect, but intriguing, complex characters; emotions that ring true; breathtaking turns of phrase and believable growth. This resilient and loving young man understands that what matters to him are the people closest to him, kindness, loyalty and the protection of a steadfast dog."
— Susie Wilde, News & Observer
"Carmichael writes movingly of Brother's struggle to understand his real family and thus more about himself. "— Carol Moyer, Quail Ridge Books
Author Carmichael has given young adult readers a bevy of characters they can identify with and a hero and heroine that will keep them coming back for more.
— Joyce Rice, Children's Literature
.....
"Wild Things, Clay Carmichael's first YA book, is a joy."
—Young Adult and Kids Books Central
"Zoë's first-person narration alternates with the observations of a feral tomcat ... and well-drawn eccentric characters add additional sparkle to the magic-touched story. Zoë's fierce, funny voice is compelling, whether she is describing tense standoffs or moments of rare vulnerability that go straight to the heart."—Booklist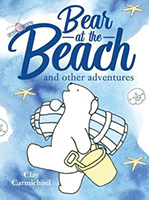 The three Bear books are coming back!
.....
.....

.....
WILD THINGS Reader Resources:
Wild Things printable bookmarks: 1 2 3
More on Wild Things Story Behind the Story
Study Guide/Journaling Questions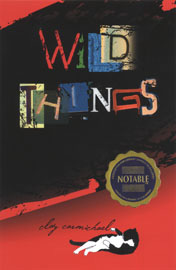 Honors & Reviews for Wild Things
2015-16 NCSLMA Battle of the Books List
Sunshine State Young Award Nominee
Georgia Children's Book Award Nominee
California Young Reader Medal Nominee
Chicago Public Schools Battle of the Books
Rebecca Caudill Book Award Nominee
William Allen White Award Master List
NYSRA Charlotte Award Reading List
A Kirkus Reviews Best Children's Book of the Year
A Bank Street College Best Book of the Year/Starred
American Library Assoc.Notable Children's Book
An NCTE Notable Children's Book
North Carolina Juvenile Literature Award
NAPPA Gold Award
Capitol Choices Noteworthy Book
Featured Review: Fuse #8, SLJ & Publishers Weekly
A Scholastic Instructor Best Kids' Book
ALAN Pick
Chicago Public Schools Women's History List
Maine Regional Library System Cream of the Crop
A Chapel Hill Public Library Best Book
Sakura Medal Nominee (Japan)
NC Children's Book Award Nominee
Keystone State Young Adult Book Award Nominee
YALSA BBYA Nominee
2010 ALA Amelia Bloomer List Nominee
KCPL Mock Newbery Honor
ACPL Mock Newbery Shortlist
Eva Perry Mock Newbery 'Shorter Shortlist'
Denver Public Library Mock Newbery Shortlist
(video/100 Scope Notes/Spicy Reads review)
Cybils Nominee
*Starred Review* "Zoë Royster, peer to the literary heroines she so loves, is as memorable in her own way as The Great Gilly Hopkins, Opal Buloni and Anne Shirley." — Kirkus
*Highlighted Review* "Carmichael's beautifully written story is wonderful. Readers both young and old will find Zoë a likeable and touching character and will be moved by the people who try to help her. This novel is a wonderful addition to any fiction collection. —VOYA
*Five stars* A phenomenal debut book...I was stunned by the depth of the characters, and how I truly connected with many of them. My favorite part was the added perspective...of the wild cat, which adds an excellent dimension... Carmichael...skillfully weaves this story and interesting characters together to create the masterpiece that is WILD THINGS. A must-read for all readers!—TeensReadToo.com
"Page by page, and this is a real page-turner, I fell hard for Wild Things."—Colleen Mondor
"Wonderfully written with contrasting points of view from the cat and Zoë, the core of the novel is the family you're born with can let you down. But the families we create can be unbreakable. —Angela Nolet, Children's Librarian, You Choose the Next Newbery, King Co. Library System, WA.
"Carmichael's a smooth and evocative stylist, and the classic elements of the orphan story retain their appeal as Zoë begins to come to terms with her sad past in the face of her loving present."— BCCB
"It's hard to resist the voice of 11-year-old narrator Zoë, who stars in Carmichael's swiftly-paced first novel, alongside a supporting cast of eccentric characters nearly as wild as she."—Shelf Awareness
.....